Part 2 of the guest post by
Light Collective
is the final four of the 'must attend' events which are taking place as part of the UN's International Year of Light 2015. The first four events were in part 1 of the post
here
.
5. The Light Score Race. Orienteering Event.
Madrid, Spain. 20 June 2015.
This looks fun and it's a shame we can't get to Madrid in June. The
Light Score Race
is a night-time orienteering event which is organised by our Spanish colleagues Luisa Alvarez and Lara Elbaz. The event takes place in Madrid's new urban development, Madrid Rio, and the traditional Casa de Campo area. Both locations are close to the city centre and the aim is to light the city with participants carrying battery powered lighting systems to create lighting effects as they run. People in Spain have a well-deserved reputation for partying and enjoying themselves and we think this will be a great event.
6. The 6° LED Forum. Conference.
São Paulo, Brazil. 20 and 21 August 2015.
If you are going to go to an LED conference, where better to head for than Sao Paolo and
the 6° LED Forum
. The conference is organised by the Brazilian architectural lighting design publication L + D Magazine and technical support is provided by AsBAI, the Brazilian Association of Lighting Architects. The conference brings together leading national and international figures in lighting design to discuss the latest research and developments in solid state architectural lighting technology. The event's list of speakers is hugely impressive and there'll be no better place to find out about the latest developments in LED architectural lighting in 2015.
7. Jyväskylä City of Light. Programme of Events.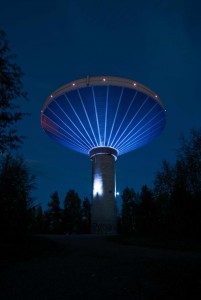 Jyväskylä, Finland. 1 to 3 October 2015.
Jyväskylä is the world's northernmost City of Light and a leader in the field of urban lighting. The programme of events offers the chance to learn about, experience and enjoy the city's lighting. Jyväskylä already has more than 90 permanent lighting installations and there are new ones - temporary and permanent - for the City of Light programme. The programme includes lighting seminars for professionals, night-time guided tours, a photo exhibition, a workshop and a community art project. Jyväskylä shows what can be achieved with urban lighting and how good lighting boosts enjoyment and quality of life. Discover more
here
.
8. Noche Zero 2015. Event and Educational Summit.
San Pedro, Atacama, Chile. 12 to 15 October 2015
Noche Zero
is a truly inspirational event. The first Noche Zero educational summit and darkness experience was first held in 2012 at San Pedro in the Atacama desert. The Atacama is one of the best places in there world to see the night sky because of its high altitude, almost complete lack of cloud cover and extremely low levels of light pollution. Organisers DIAV Lighting Design bring together a collection of speakers and thinkers from the worlds of architectural lighting, astronomy, dark skies, biology, science, photography, film making and urban planning. The aim is to discuss and share ideas around the issues surrounding the use of light in the modern city in the context of preserving humanity's connection with the night sky. Whatever you do for the International Year of Light, find some time, participate and help spread the word about light.