For many years we sold Factorylux fabric festoon cable and the classic Beeantee Bakelite lamp holders. With some regret, we've decide to stop selling the cable and lamp holders.
We're making 2015 the year of 100% compliance – every product we sell – with the relevant British or harmonised standard.
The Beeantee lamp holders were designed in the 1930s and the festoon cannot be made to comply with BS EN 60598. We do still sell simple plug in lights because we can make and certify these to BS EN 60598. Create your simple plug in light here or read more about the history of the festoon below.
The Beeantee lamp holders have a distinguished history. The design was patented in 1930 by Herbert Turner of Leytonstone and Henry Bloom of Highbury. Their design uses an ingenious system of brass spikes, a recessed channel and threaded cup which means the lamp holders could be positioned anywhere on the cable at the point when the festoon was being installed.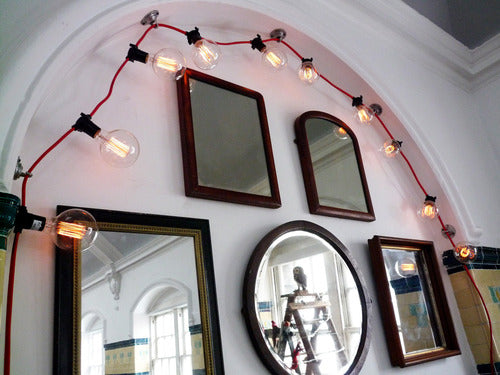 The patent application contemplated the festoon being used 'for the purpose of fete or gala illumination', but the use turned out to be much wider. In addition to lighting temporary events, it was adopted by the British Army and NATO and used throughout the world.
The festoon has many commendable features: the Beeantee lamp holders are made in the UK from classic Bakelite; the Factorylux festoon cable was made in Italy and had an attractive fabric sleeve in a range of colours. The assembled festoon looked great, particularly when equipped with traditional filament bulbs.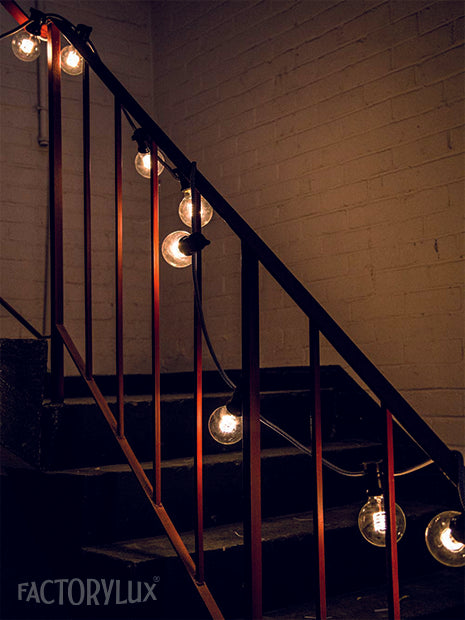 Unfortunately for the festoon, it can't be made standards compliant. The old standards have been withdrawn by and the lamp holders and cable were not designed and cannot be assembled to meet the latest standard (BS EN 60598-1:2015). So it's farewell to festoon. The product was withdrawn from sale on 15 January 2015. If correctly installed, the festoon is completely safe, so there's no product recall. We're sorry to see it go, but we're sure 100% compliance is the right decision.
Download the original Patent for the festoon lamp holders