Though the weather outside was dreadful yesterday, we were in high spirits with the much anticipated arrival of our Heidelberg cylinder press. Heidelberg introduced its first automated high speed cylinder in 1934 and sold many thousands of the presses. Ours is an 18 x 23 KSBA model dating from the mid to late 1960s with the serial number 329464.
The KSBA model was in production in the then West Germany between 1955 and 1981. It's 2.5 metres long, almost 1.5 metres wide and weighs a shade over 3 tonnes. The press can cope with much bigger sheet sizes and will be used to print wrapping and packaging for our range of personalised Moleskine and Leuchtturm notebooks.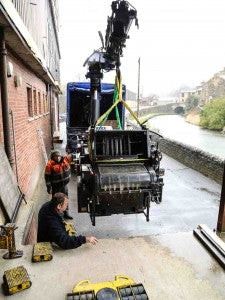 Work in the print room was put on hold when the Heidelberg cylinder arrived. The print team were pressed into service of a different kind helping the specialist machine movers get the press into position. Shifting machinery of this scale requires skill and care. With the opening of the truck roof, the press was briefly exposed to the joys of the Yorkshire climate. Lifting straps were fitted and the machine craned out of the lorry and into the Old Trouser Factory.
The Heidelberg cylinder looked monstrous from below but still had the unmistakeable Heidelberg style we know and love. The lift was a tense moment for all, a slip of the straps and a drop of the press would result in irreversible damage to a valuable antique press. To much relief, the dismount was performed to perfection. The press was then inched into position with the help of skates, winches, trolleys and human power. It was a tight squeeze at times, but the machine was positioned without any scratches to the jet black ironwork.
And so begins the great adventure… The Heidelberg cylinder will need to be thoroughly cleaned, checked and oiled. When we are happy the press is ready to run, we will start test production. We'll be able to print up to A2 – 42 x 59cm – on the new press, and A2 sheets which have the beautiful and inimitable letterpress depth and texture. We hope our first collection of personalised notebook packaging will be ready in few weeks, but that depends on the ageing print team getting the ageing machine to print perfectly.