The 2°C exhibition ran at the Aram Gallery on Dury Lane in central London between 22 September and 29 November 2015. The exhibition, devised by Disegno, was about communicating climate change. Limiting the rise in global average temperatures to 2°C is accepted as a way of avoiding dangerous climate change.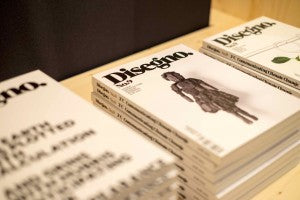 The exhibition featured proposals for climate change campaigns created by leading designers and architects, including: Marjan van Aubel, Sam Baron, Maria Blaisse, Ilona Gaynor, Ross Lovegrove, Neri & Hu, Parsons & Charlesworth, PearsonLloyd, Universal Design Studio and Dominic Wilcox.
The installations were displayed in a series of 12 plywood booths simply lit by Factorylux Eco-LED light bulbs wired using Factorylux fabric cable and lamp holders. The neon yellow light cable provided a contrasting flash of colour against the muted tones of the plywood booths.
The booths contained a thought-provoking mix of projects including a booth showing the volume of water (380 litres) and weight of CO₂ (almost a kilo) required to produce just 25g of beef. And a booth with a printer which churned out doom-laden message about the effect of climate change on humans. The 12 booths were featured in Disegno issue 9.
The Factoprorylux Eco-LEDs were chosen for their environmental and technical performance: they are A rated for energy with a bright (800 lumen) output, high colour render (>90 CRI) and a warm white colour temperature (2,700K). The light fixtures and fittings are being reused after the exhibition by being installed at the offices of Seam Design, a leading light design practice.